The Jistt:
Trump's famous one-liner in The Apprentice came to good use on Saturday when he said "you're fired!" to his political advisor, Sam Nunberg.
Nunberg has Zuckerberg to thank for his release. He had some offensive and controversial comments posted on his Facebook wall. Thought Trump was bad with his immigration comments? Check out some of Nunberg's FB posts below.
A surprising and ironic move by Trump. Is this a publicity stunt?
If you can't tell the difference between the 30+ republicans up for the Presidential nomination, Fox News is hosting the first Republican Presidential Debate on Thursday at 9 p.m. ET. You'll get to know the top 10 GOP candidates better (or worse).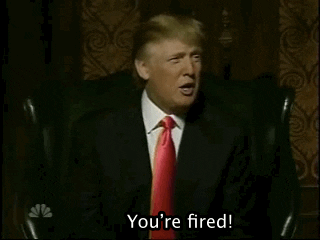 "Sam, you're fired!"
That's what we'd imagine Donald Trump saying when he released one of his political advisors, Sam Nunberg, from his campaign group yesterday. Nunberg, a low-level staffer, had racially driven and explicit Facebook posts about politicians all over his FB wall since 2007, according to CNN. Trump's Campaign Manager Corey Lewandowski confirmed Nunberg's firing.
Some of Nunberg's Facebook posts included comments, uncovered in a Business Insider report, that called Reverend Al Sharpton's daughter the N-word and President Obama  a "Socialist Marxist Islamo Fascist Nazi Appeaser." Nunberg denied the claims and mentioned that he was not in full control of the comments left on social media.
Is this all a publicity stunt?
It's ironic and surprising. With all the entertainment and controversial statements Donald Trump has given us so far in the past month, it's interesting that Trump would let someone go who also posted a few offensive statements several years earlier.
Maybe Mr. Trump does realize the hurt that the comments caused. Lewandowski went on to comment that, "They were offensive and they do not reflect Mr. Trump's position and we take them very seriously."
So what happens from here?
It's obvious that the Trump himself has made questionable statements and is very outspoken, however, based on this recent news, he doesn't let his staff do the same. This doesn't mean that Trump has turned over a new leaf so to speak, but it's an interesting campaign move that contradicts his own public actions. Let's not forget that he keeps gaining popularity in the polls.
The Republicans prepare for the first debate set for Thursday
The first Republican Presidential Debate is scheduled to air on Fox on Thursday at 9 p.m. The debate will take place in Cleveland. You won't see all the candidates participating in the first 'primetime showdown' of 2015. Only the top 10 candidates who hold America's interest in a few national polls will be part of the debate. The rest of the candidates will have an earlier debate (aka when no one is watching).
Right now, the Republican party is saturated with presidential wannabes that it's hard to remember all their names and their political view for major issues (i.e. gun control, immigration, health care). This debate will give us a clearer picture and idea of the top 10 GOP candidates, the ones whose position on these issues will matter the most.
There will be back and forth arguing and disagreeing, but whoever wins the commentary of this debate will also win in the polls in weeks to come, putting him/her one step closer to becoming the Republican nominee.
Source :