It's that time of year again. The time when your social media feeds become clogged with photos of crying graduates attempting to pull off the very difficult fashion statement of a square hat.
Maybe you're the graduate mourning the loss of your youth, or maybe you're a 20something, acknowledging the horrifying realization that you're two years away from the time when it was acceptable to bring a water bottle filled with Burnett's vodka to a party — either way, graduation season tends to bring a sense of existential dread to all.
To combat that anxiety and remind yourself about the hidden joys of graduation season, we've compiled a list of the books, movies, shows and more that will allow you to properly reminisce and prepare.
Watch Superbad
Superbad's plot follows two best friends attempting to wrangle some alcohol for a party to impress some girls, but the movie's subtext is all about the fear of change and growing up. It's a love letter to the best friends that accompany us through these scary stages of life, so basically, it's a graduation day must-see. Recommended to watch with a large pizza from your college's late-night hotspot, a bottle of wine, and your person.
Read The Opposite of Loneliness
"We don't have a word for the opposite of loneliness, but if we did, I could say that's what I want in life." And with that starts a movingly profound essay that perfectly captures the joy of college and the fear of leaving. Marina Keegan was a Yale student and aspiring writer, who published an essay entitled "The Opposite of Loneliness" in her college's newspaper before graduation. Marina died just five days after graduation, making her words about the fear of the unknown and the shortness of life all the more haunting. However, her posthumously published book of essays isn't a must-read because of the tragedy behind it, but because of the vivid ways she touches on our fears, dreams, and anxieties.
Listen to "Graduation (Friends Forever)" by Vitamin C
If you didn't blast this Vitamin C song, arms entwined with your group of best friends, tears streaming down your face, declaring to always keep in touch and oh my god thank you for saving my life that one time when I was too drunk and fell down the stairs, I love you so much, you too, let's go to Cape Cod every year, did you even graduate?
Indulge with Dazed and Confused
This is the pick-me-up that reminds you that while graduation closes one door, it open another: the start of summer. Dazed and Confused follows the last day of high school for a group of kids in the 1970s, and while you now have real responsibilities: internships, jobs, bills, ugh — this movie will have you remembering summer's special vibe. Best enjoyed with a joint, duh.
Watch The O.C. Season 3 Finale
The O.C. has brought us many gifts, from Seth Cohen to Chrismakkuh to Peter Gallagher's eyebrows, but one of their greatest was the graduation episode (look at Ryan Atwood, grown so far from his Chino punk days!). And I mean honestly, the ending of the episode will remind you that there are far worse things than graduating (depressing spoiler alert).
Read 1,000 Places to See Before You Die With a Map In Front Of You
A crucial part of graduation is realizing there's a whole world of knowledge left out there for you. Use this book as inspiration. There's always more that you can see and learn; it doesn't matter how old you are. Plus, it's never too soon to plan your reunion with your college best friends.
Watch Into The Wild
Sure, Christopher McCandless's end wasn't pretty, but what he saw and learned was. Watch this and remember that it's okay — in fact, often even better — to take an unconventional route after graduating. Just, for the love of God, make sure people know how to find you.
Stream Greek In Its Entirety 
Isn't this the show that got you excited for college in the first place? This charming ABC Family show depicted the intense bonds between fraternity brothers and sorority sisters. It made college seem pretty magical, with every girl dying to go away to school and find her Cappie. The Greek system owes this show big.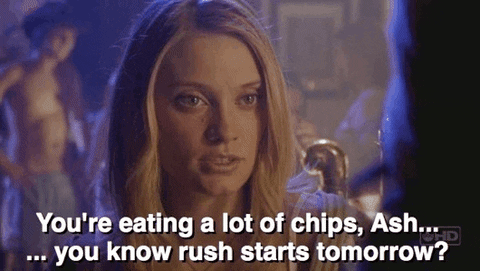 Check Out Mindy Kaling's Commencement speech
Mindy Kaling is hilarious, that is a given, but she's also pretty wise, as made evident by the fact that she was the 2014 Commencement speaker for Harvard Law School. Her speech is witty and funny, poking fun at herself and the grads (and sprinkled with a lot of references to one particularly sexy Harvard professor) but it also hammers in the importance of taking one's skills and using them to better the world (even though, as she points out, some of her audience must be evil, statistically speaking.)
Source :