Kale is currently sitting comfortably in its hard-earned superfood throne. Boasting an extremely varied and high quality nutritional profile, kale is essentially the Usain Bolt of the food game. It too has remained unchallenged for quite some time and it is the first or second ingredient in mostly any juice that serves a slightly healthy purpose.
However, as we've seen in Game of Thrones, absolutely nothing is 100 percent safe, and can fall at anytime (NOOO Jon Snoooow!!). Okay, I'm being a bit dramatic, but there is a challenger to kale's popularity and it may usurp the superfood throne for reasons beyond nutrition. The contender? BROCCOLI LEAVES. Believe it or not, broccoli actually has leaves. This lesser known part of broccoli isn't typically consumed, but more and more people are starting to substitute it for kale.
So why choose broccoli leaves?
They're Healthy AF
In spite of being completely edible, broccoli leaves are usually tossed to the side or used to cultivate the soil after the florets are picked. They have a pretty high nutritional profile, being an excellent source of protein, vitamin A, vitamin B2 (riboflavin), vitamin B6, total folates, vitamin C, phosphorus, potassium, manganese and a whole bunch of other good vitamins you hear of but have no idea what it does.
Similar to kale, they can be steamed or cooked in place of any other leafy greens or cabbage. They can also be juiced, and if the leaves are picked young enough, they can be thrown right into a salad. However even with all of these wonderful properties, broccoli leaves are still rank lower than kale in proportional nutritional value, and doesn't have the same momentum as a superstar superfood.
How will broccoli leaves (already tainted for the broccoli association) win the hearts of the people and dethrone kale as the greatest superfood?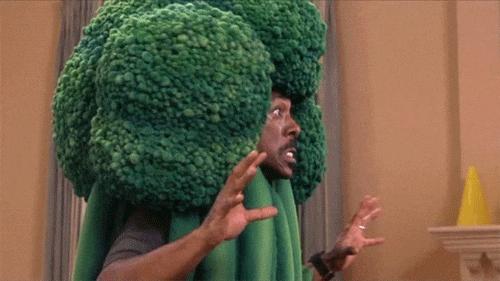 But Like, The Real Winning Quality? 
As with everything else, it comes down to money. There's already a market for broccoli, so it wouldn't take as many resources to make double the use out of one crop versus investing resources into a completely different crop, AKA cheaper for all.
Be on the lookout at your local farmer's markets and hopefully your grocery store in the next few months and decide for yourself.
Source :