www.istock.com/jacoblund
We spend a lot of time at work. With long days and the increasing ability for our bosses to reach us at any time of the evening, it's easy to see how job satisfaction plays a big role in people's lives.
Based on the latest SHRM Employee Job Satisfaction & Engagement survey, only 38 percent of US employees reported feeling very satisfied with their current jobs. That's pretty low.
While there are plenty of theories and reports on job satisfaction, I'm a believer that many people are unhappy in their roles because they're not doing the work that they ought to be doing. They're not doing the work that they're passionate about and that fills them up.
While I recognize there's a certain level of privilege to be able to say that we should feel passionate about our work, it's also just good business. Showing up "at our best" in our jobs every day is the best way to ensure career satisfaction. It drives us to do our best work, make less errors and straight-up, feels good. What's not to like about that?
There can be many issues in the way which we work (communication issues, long hours and the like), but the first hurdle is focusing on work we enjoy. If we don't have that, then even if you fix these other factors you still may be inclined to leave and find another job.
So can you find fulfillment in the work you do every day? How can you find that "career calling?"
To start, we must think about ourselves more as whole people. We are not just employees and only considering the things we do in the office every day would be missing the mark. Someone in my life once said, "We are human beings, we are not human doings" and that really stuck with me. Spend some time with the following questions to start to hone into you at your best:
1. What is it that I get the most joy from, whether it be in the office or at home? What are the activities that I look forward to, and can't wait to recount to my loved ones?
2. What do I enjoy about them? What am I getting from those things that add to my fulfillment? (For example, you may enjoy managing teams because you enjoy interacting one-on-one and pushing them to be the best versions of themselves).
3. What do my closest friends and family say are my superpowers that they always come to me for? (ask them and see what they say!)
4. When I think about me at my very best, who do I see? What does that person do and not do?
Answering those questions can guide you to a high-level picture of "that person." It's always helpful to envision you as someone else, especially because as humans we often fall victim to giving great advice to others but not taking it ourselves. Once you picture "that person," start writing out some clear ideas about what they do or don't like and what work fulfills them.
When I was in advertising, I did the work. I felt the same thing that so many of the people I work with feel, like I had just happened upon my role and doing anything outside of what I knew would make all of the time I had spent growing my career a total waste. But here is the reality: it's never too late. There are plenty of examples of people who didn't start out in their dream jobs, like Ellen Degeneres who started out as an oyster shucker.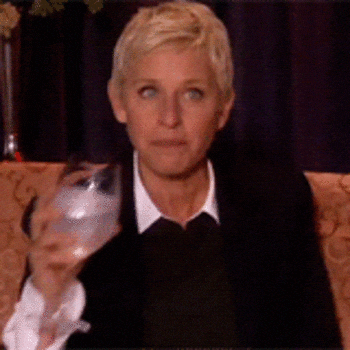 The thing that's different about them and that is different about me is that we all made the choice to stop settling for "OK." I knew feeling content about my role and enjoying my steady promotions wasn't enough, and that's the same sentiment I hear from so many women I work with. They hear the voice inside of them whispering that they can be something more, and they decide that they actually want to start listening to it. That's where we start.
It all started by looking at the work I enjoyed. I had been training teams on how to run campaigns, and found that I loved being in front of the classroom. Being in front of a crowd where I could engage and see their eyes light up when they learned something new was everything to me. I knew I needed more of this, so I asked. It eventually became my full-time job, and from there I focused on what fueled me, got my coaching certification and launched my own business. Now I feel excited and inspired by the work I do every day, all because I took the time to figure out exactly what that was.
My journey wasn't a straight line by any means. I had the support of a coach that helped me plan out what my path truly was. But that's exactly why I started Empowered Achievers – so that more women can have a map to get where they're trying to go sooner, figure out what they want to be focusing on and to get there with urgency because this matters.
Start to do this work today. Even going through these questions puts you a step ahead. I've even created an entire program on this subject, and there's no doubt in my mind that I'll keep running this.
You deserve more than to settle for work. You get to decide whether you want to put in the work and figure out what fuels you, and the short-term investment of your time will have big payouts in the end.
For more information on this, check out Chris's work at http://beempoweredachievers.com