It was a heavy week in the news. The Paris attacks rocked the world and brought terrorism to the forefront. Everyone weighed in, from Facebook, Instagram and Twitter users, to world leaders and presidential candidates.
New revelations, new bans on those hipster hoverboards, and (somewhat) shocking celebrity announcements also made the news. There was a lot going on this week so better get reading — you'll want to know everything in this week's gist (*warning: some disturbing videos below):
Paris is in a state of emergency. On Friday, several explosions and multiple shootings occurred throughout Paris Friday night, killing 129 people and wounding over 300.
Here's what you need to know:
The explosions happened outside a Paris stadium where hundreds were at a France-Germany soccer game Friday evening. The explosions could be heard in a Vine taken by one of the fans.
The other shootings took place at restaurants, cafes and the Bataclan concert hall. There, gunmen opened fire inside the venue and held over 100 people hostage until French police stormed the place. Sadly by that time, two of the gunmen detonated bombs, killing themselves. Almost 100 people died inside that concert hall.
One survivor described the scene as a "bloodbath."
Shortly after midnight, French president Francois Hollande declared a state of emergency and a massive manhunt ensued.
ISIS claimed responsibility hours later and threatened that more attacks were to come. The militant group sent out two propaganda videos, one earlier in the week and another on Wednesday, threatening to attack Washington D.C. and New York City's Times Square.
One cartoon artist's sketch became the international symbol of solidarity:
Moments after the world found out about the attacks, French designer and illustrator Jean Jullien drew a sketch of a peace sign in the shape of the Eiffel Tower and published it on Twitter, Instagram and Facebook with the caption "Pray for Paris."
Immediately it was widely retweeted and reposted, and became the international symbol of solidarity with Parisians.
Peace for Paris pic.twitter.com/ryf6XB2d80

— jean jullien (@jean_jullien) November 13, 2015
Charlie Hebdo (the French magazine that also experienced a terrorist attack about a year ago) cartoon artist also released a sketch with the #ParisIsAboutLife, stating it's more than religion, it's faith.
Facebook also took it a step further by allowing people in Paris to "check-in" on the site to let all their friends and family know they are okay.
People began putting French flag filters on their profile pictures, a sign of support and unity among the Facebook community.
Sorry! Maybe error link or deleted link.
Major monuments around the world also changed their colors to show support:
And vigils are being held around the world to honor the victims:
Stories about the people who died in the tragic attacks are coming out now.
You can find each victim's name here.
The manhunt for the attackers continue: 
Authorities have been conducting raids in Brussels, throughout Paris and suburbs surrounding the city in attempts to catch the terrorists.
On Wednesday, police raided the city of Saint-Denis, where they captured seven men and a woman.
The mastermind of the Paris attacks was also killed in the raid, French investigators confirmed Thursday. He was linked to other known jihadists.
One ISIS terrorist is still at large. The brother of the terrorist has publicly urged him to turn himself in.
Seven ISIS attackers have been killed so far.
The U.S. response: Increase security at all major events as people fear an attack:
Police presence increased at major events, venues during sports games, and popular tourist sites.
After the ISIS video threatened an attack on NYC's Times Square, Mayor Bill de Blasio said "New York City will not be intimidated."
On Monday, Obama announced at the G20 Summit in Turkey that he will not be adjusting his strategy in the fight against ISIS to put more American boots on the ground.
"What I'm not interested in doing is posing or pursuing some notion of American leadership or America winning," Obama said.
Some were angry that Obama wasn't doing more, but if we all recall, when the U.S. invaded Iraq and Afghanistan, we helped ISIS gain power.
Obama also said he will continue his plan to allow Syrian refugees to settle in the U.S.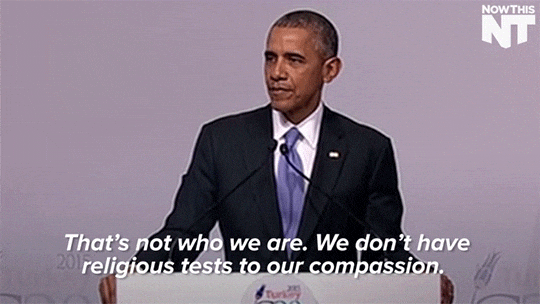 But what does Hollande want from the international community?
There were talks about Hollande initiating Article 5 in NATO Charter, which calls all the major five powers, which includes U.S., to act in unison with France in attacks.
Hollande called to have France's state of emergency extended for an extra three months.
French military began bombing the city of Raqqa in northern Syria, where a number of ISIS members are reportedly located.
But in the midst of the Paris attacks, what about Beirut?
Just a day before tragedy struck Paris, Beirut, Lebanon, experienced a similar deadly attack.
A double suicide bombing rippled through Southern Beirut, killing 43 people and injuring more than 200. ISIS claimed responsibility.
So where was the international outcry for that attack?
Facebook received backlash for not implementing the Safety Check feature for that human catastrophe and also for not creating a filter for people to stand in solidarity.
The truth is, people forget about Beirut because: 1) It isn't a Western country, 2) Since it's in the Middle East, many believe it's a common occurrence and 3) Many people can't even locate the country on a map.
Despite this, Beirut deserves the same respect as Paris.
#PeaceForTheWorld
Another serious topic of conversation: the Syrian refugee crisis, and some governors banning them from their states:
Now that one of the ISIS attackers reportedly got into France by pretending to be a refugee, it is making things very difficult for the real Syrian refugees.
The U.S. is suppose to allow 10,000 refugees to resettle across the states by 2016, but after the attacks, governors are saying "HELL NO."
26 governors are banning refugees in their states, including NJ Gov. Chris Christie, Lousiana Gov. Bobby Jindal, and Mass. Gov. Charlie Baker.
Obama threatened to veto any bill that would curb Syrian and Iraqi refugees coming into the U.S., but the House said "F U" and passed the bill anyway.
Only 18 governors, all Democrats except for two, have said they will accept refugees.
I just signed an Executive Order instructing state agencies to take all available steps to stop the relocation of Syrian refugees to LA.

— Gov. Bobby Jindal (@BobbyJindal) November 16, 2015
Among the chaos, the Democrats hosted their second Democratic presidential debate. Here's what they talked about:
Clinton, Sanders, and O'Malley gathered in Iowa for the event hosted by CBS.
Viewership was low, but the candidates got down to the important topics.
On gun control: O'Malley accuses Clinton of being "three-sided" on gun control. Clinton called out Sanders for not doing enough on gun control. Sanders defended his 2005 support to grant legal immunity to gun manufacturers. The end consensus: America needs better gun control.
On national security: The Paris attacks definitely affected the debate. Clinton refused to call it "radical Islam," which Republicans jumped on her for.
Is O'Malley too inexperienced on foreign policy?: "Libya is now a mess. Syria is a mess. Iraq is a mess. Afghanistan is a mess. As Americans we have shown ourselves to have the greatest military on the face of the planet but we are not so very good at anticipating threats," he said…Harsh dig on Hillz right there.
On Wall Street greed: Clinton got bashed for accepting donations from people on Wall Street, but she reaffirmed that she will not take a light stance on them and go easy.
Bernie has always said he didn't like Wall Street and guess what, they don't like him either.
The winner of the debate is…: Some say it's O'Malley (the hunk) and that Hilldog really didn't do badly, but didn't shine. Either way, no one can get past the low viewing numbers.
And here's what Trump says about the Paris attacks:
"You can say what you want, but if they [the Parisians] had guns, if our people had guns, if they were allowed to carry…it would've been a much, much different situation," Trump said to a cheering audience. I'll just let that soak in for you guys.
The Donald also released a radio ad attacking Obama's policy to combat ISIS and said he would shut down mosques and increase surveillance on American Muslims.
He also said the U.S. might have to do the "unthinkable" to keep Americans safe.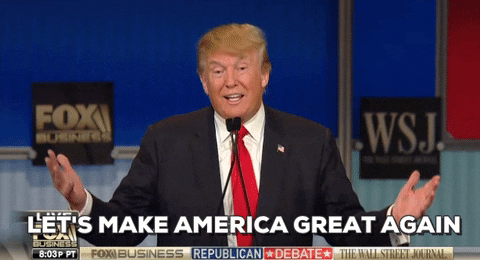 Ben Carson, while trying to release a successful campaign ad, mistakenly shuffles some of the U.S. states:
Ben Carson's campaign released a new ad against bringing in Syrian refugees, but put the states in the wrong place.
Apparently it was entirely the graphic designer's fault, but like, THIS IS WHO IS AHEAD IN THE POLLS FOR PRESIDENT…
Ben Carson's campaign is being secretly funded by The Onion https://t.co/hjVAlVCBlN pic.twitter.com/PjempRHERP

— Downtown Josh Brown (@ReformedBroker) November 18, 2015
And in other major news, ISIS claims responsibility for taking down Russian plane with a soda can bomb:
ISIS magazine published a photo of a soda can and what appears to be bomb components, claiming this is what took down the Russian airplane.
The plane was flying from Egypt to Russia when it exploded, killing 224 people on board.
Investigators said the bomb would explain why parts of the plane were found scattered over a large area.
"It's a soda can, detonator, and a switch." –@jeffpeguesCBS on bomb ISIS claims was used to blow up Russian plane pic.twitter.com/FcqKMCemsM

— CBS Evening News (@CBSEveningNews) November 18, 2015
Jared Fogle was sentenced to 15 years and 8 months in prison for child porn and sex charges:
The former Subway spokesperson pled guilty for child pornography and sex charges.
He also has to register as a sex offender, have a lifetime of supervision, pay a $175,000 fine, and get treatment for his sex disorder.
The judge went way beyond what anyone was asking for, and for the right reasons.
Apparently Fogle traded his horrible food addiction for horrible sex addiction.
Husband of 9/11 hero sends Glamour award back because of Caitlyn Jenner:
The husband of a 9/11 hero announced he is returning his wife's Glamour "Women of the Year" award 14 years after she received it because Caitlyn Jenner was given the award.
NYPD officer James Smith said in a Facebook post (now deleted) that it was a "slap in the face" that Caitlyn Jenner received the award out of all the "real" woman eligible.
"Was there no woman in America, or the rest of the world, more deserving than this man?" Smith said.
His wife, Moira Smith, was the only female NYPD officer killed during the 9/11 attacks.
Charlie Sheen reveals he is HIV positive on the Today show:
In an interview with Matt Lauer, Charlie Sheen revealed he has been HIV positive since 2011.
Sheen, who used to be one of the highest paid actors, said he has known for the past four years and has paid millions of dollars to keep people quiet.
He's finally putting the rumors to rest and stopping the blackmail.
Sheen said none of his ex-wives and children are HIV positive, and he hasn't transmitted the disease to anyone since he found out.
Denise Richards came out supporting Sheen and said she knew since he found out.
Girls who are not so happy with him? His recent "goddess" who claimed Sheen never told her about his status and they had sex almost everyday.
Also Jenny McCartney, who played his love interest in "Two and a Half Men." Sheen's manager said he contracted the disease way after they worked together, but McCartney said it still isn't fair, especially since actresses have to disclose a number of health information before working on set.
Missed @CharlieSheen's exclusive interview with @MLauer this morning? Here are the highlights. https://t.co/CcHxru9vE3

— TODAY (@TODAYshow) November 17, 2015
Genetically modified salmon gets FDA approval:
The FDA announced Thursday that genetically modified salmon is safe to eat.
It's the first genetically modified animal approved by the FDA
Environmental and food-safety groups are fighting the decision, saying people don't want to eat GMO fish, even if it is available.
If you're thinking of riding your cool hoverboard around NYC, don't. They're illegal:
They might be Time's best new gadget of 2015, but the NYPD is not buying into them.
Earlier this week, the NYPD tweeted the hoverboards are banned on city streets.
Apparently they've always been banned. The city code loosely defines them as "motorized scooters," but they don't fit into their definition.
Doesn't matter. The hoverboard has to be a registered vehicle in NYC to be allowed, and right now, none are.
If you're caught riding one down Fifth Avenue, you can be responsible for a hefty $200 fine.
You can have your coffee and cake and eat it too (the cake in moderation):
A new study came out saying a cup of coffee can reduce the risk of dying early from heart disease and other possible illnesses.
Also, have a slice of cake after a meal. Apparently you're more likely to remember a meal if you end it on a sweet note. By ending it with a dessert, you'll also be less prone to snacking afterwards, a major cause of obesity.
So have a doughnut with your coffee — it might make you live longer and healthier (if you take it in moderation).
And you can do it while reading People Magazine's latest issue, which named David Beckham the "Sexiest Man Alive." Yummmmmmmmmm.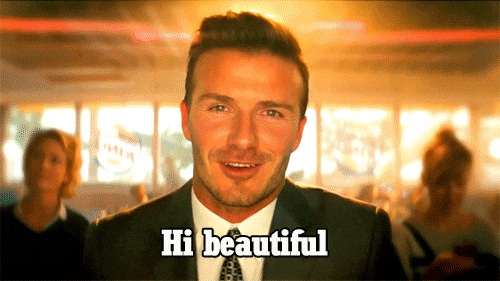 If you need something heartwarming after a week of bad news…
A two-legged puppy was able to walk again thanks to his 3-D printed wheelchair.
It's so cute it will melt your heart.
Source :