It's New York Fashion Week, the second presidential debate just happened and (surprisingly enough) Trump wasn't the star of it, the U.S. Open is done and over and [mostly] everyone was upset by who won. BUT it's football season, and your favorite fast-food joints are making headlines. And, if all else fails, you can "dislike" it on Facebook now.
Don't know what I'm talking about? Here's the gist of the news this week:
CNN hosted the GOP presidential debate round 2 on Wednesday. Here's what you missed.
Fiorina trumped Trump: Carly Fiorina, the 11

th

 republican candidate who was able to skip the rookie's debate this round and join the big leagues, addressed the "face" comments Trump made last week. In a recent interview with Rolling Stone, Trump said about Fiorina, "Can you imagine that, the face of our next president?" Fiorina was asked about the comment, and answered pretty politically.
But Fiorina doesn't think a woman should appear on the $10 bill: When asked who it should be, she said no woman because it would do nothing for women's cause. Interesting.
Everyone went on a rant about defunding Planned Parenthood: The GOP candidates went apeshit on Planned Parenthood and the video of a PP working allegedly talking about the organization profiting from fetal tissues taken from abortions. Some of them needed to fact-check before the debate.
John Kasich said he doesn't know anyone who doesn't want to defund Planned Parenthood: 54 percent of Americans do think PP should keep federal funding.
Fiorina dared Obama and Clinton to watch two PP videos that showed an unborn fetus: Don't know where they would find the videos because they don't exist.
Bobby Jindal said, "Planned Parenthood is selling baby parts across this country.": There's no actual proof of this, in case you're wondering.
Bush didn't take Trump's shit-talking: After a disappointing show at the first debate, Jeb came out with his political arguments blazing. He defended his brother's actions during the Iraq war and called out Trump for dissing his wife.
Trump doesn't think Jeb should be talking Spanish: Trump said since we live in the U.S., we should be speaking English mainly. Let's just disregard the fact that America was established by immigrants who spoke different languages. Here's what the candidates replied back:
Ben Carson who?: Carson is pulling in second to Trump in the polls, but his sleepy answers put him in the back seat this debate.
A Bush-Trump high-five happened: Despite everything, so that was nice.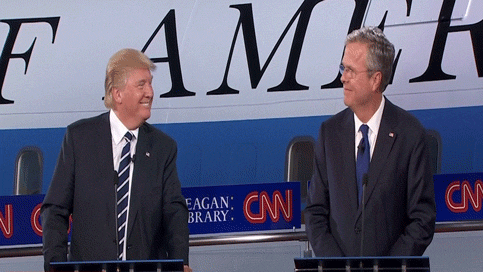 Only thing Trump won was his facial expressions: They expressed all his feelings.
The #Trumpface keeps getting better and better. #CNNDebate pic.twitter.com/b75FAJvqJw

— Mashable GIF (@mashablegif) September 17, 2015
When your jam comes on #CNNDebate pic.twitter.com/Ja6Xyzokt1

— Mashable GIF (@mashablegif) September 17, 2015
A Texas teen was arrested for showing his teacher a clock he made
A 14-year-old Texas high school freshman, Ahmed Mohamed, was arrested after he showed his teacher a clock he made out of a pencil case. Cool right? Not so much to his teacher.
"I built a clock to impress my teacher but when I showed it to her, she thought it was a threat to her," Mohamed said to reporters.
He was arrested after school ended for attempting to make a fake bomb. Police allegedly questioned him, but found nothing except that the pencil case was simply…a clock.
Mohamed was released and not charged, and he took the whole incident pretty well. People on social media, though, not so much.
People were outraged by the incident, saying the 14-year-old was arrested because he was Muslim. #IStandWithAhmed started trending on Twitter and Facebook. The freshman, who aspires to go to MIT, was winning over all the haters, especially his teacher.
The best part? Good ole POTUS invited him to the White House.
Cool clock, Ahmed. Want to bring it to the White House? We should inspire more kids like you to like science. It's what makes America great.

— President Obama (@POTUS) September 16, 2015
37 fraternity members face charges for the death of college student during hazing ritual 
37 members of Pi Delta Psi fraternity at Baruch College are facing serious charges after 19-year-old freshman died during a hazing ritual back in December 2013.
Michael Deng was rushing the fraternity and as part of the hazing process, he and other new members had to carry a 20-pound backpack filled with sand.
He tripped and hit his head. Fraternity members waited hours before bringing him to the hospital, where he died from head trauma.
Five members were charged with third-degree murder and six other counts that include hazing and involuntary manslaughter.
The other members are charged with aggravated assault to hazing.
The fraternity brothers initially told police Deng was pushed down the stairs but didn't know who did it. Two years and an extensive investigation later, the truth comes out.
A massive earthquake hit the coast of Chile 
A 8.3-magnitude earthquake hit the coast of Chile Wednesday night, but thanks to researchers and early warning, 1 million people evacuated the area before it hit.
10 people have died, one person is missing.
The damage could have been WAY worse. The quake triggered a 16-foot wave to hit the Chilean coast.
A tsunami warning was also in effect for California and Hawaii.
The nuclear issue is back again, but this time it's North Korea
North Korea told the U.S. "we DGAF what you think" and kickstarted its nuclear program again — here comes the weapons.
North Korea's nuclear weapons program is the main leverage it has internationally to keep Kim Jong-Un in power.
Last time North Korea launched a missile test was back in 2013. The U.N., including North Korea's commi ally China, imposed sanctions on the country.
And for your the weekly dose of celebrity entertainment…
I'm going to hijack your fashion show first
Kanye West debuted his fashion line, Yeezy season 2, during New York Fashion Week on Wednesday.
Drama with Kanye! Not only was it an all celeb affair, his show conflicted with two other fashion shows — Naeem Kahn's show and the debut of Anne Bowen's streetwear collection, Nomad VII
Kanye's show allegedly also took some of the models away from these designers.
Bowen had to reschedule her show for Thursday, recast a bunch of models and reorganize some production. A logistical nightmare but a move Bowen told reporters that must be done to not be overshadowed by Kanye.
Khan took the risk and had his show during Kanye's and it seems like his turnout was still pretty good.
Kanye West's debut of Yeezy 2 was a "Star Wars" scene
Kanye's new track dropped during the show. There was a lot of booty and nude colors, and all of the models stood still like a weird zombie movie scene.
Plus-size model Ashley Graham and other curvy superstar struts the runway in Graham's new lingerie line
Ashley Graham debuted her lingerie line, Black Orchid collection, for Canadian retailer Addition Elle at NYFW and it's what everyone's talking about.
It's not the first NYFW show that featured plus-size models on the catwalk, but it was the first mostly plus-sized models show.
It was an amazing, beautiful show that has everyone hashtagging #IAmSizeSexy.
Beyonce pulled another Beyonce and surprised the world with a new track
British producer Naughty Boy was tweeting Wednesday and Thursday about a new track titled "Runnin' (Lose it all)" featuring Queen Bey.
Bey herself didn't said anything about the new track before the drop. Last thing she posted on Instagram was her and Jay on a yacht chillin', enjoying their fabulous life.
The Queen does it again with Naughty Boy.
Ryan Adams is doing Taylor Swift's 1989 2.0 
Ryan Adams is doing a whole cover of TSwift's 1989 album. Yes, all your favorite songs will be sung by him.
Tay is apparently really excited about the whole thing, tweeting, "Ryan's music helped shape my songwriting. This is surreal and dreamlike."
You'll be able to download it on Sept. 21 on iTunes. Check out the album cover and "Bad Blood" sampler.
Miss America contestant gave a shout out to all the nurses for her talent
Instead of twirling a baton or belting her vocal chords out, Miss Colorado Kelley Johnson decided do perform a monologue for her talent at the Miss America pageant Sunday night.
"It's very unique, but I am a nurse, and that's my talent, taking care of people and caring about other people. And so I wanted to give the nurses that don't have that voice, that voice and that recognition of just somebody going up there and just being a little bit different and unique," Johnson said when she was on the Ellen show this week.
Bravo Miss Colorado, bringing something new to the pageant!
Vanessa Williams finally got the "sorry" she wanted Sunday night
Vanessa Williams was stripped of her Miss America crown back in 1984 after she posed nude for Penthouse Magazine
The CEO of the pageant apologized on live TV to Williams. Better late than never.
Your fav. restaurants are also making headlines this week…
Taco Bell serving alcohol in its Cantina restaurants
Taco Bell wants its customers to get their drank on with some featured booze.
Chicago and San Francisco will each have a Taco Bell "Cantina" location that will have alcohol choices to go with the crunch wrap supreme.
The Chicago location will have some frozen margs, beer, wine and sangria. It will also introduce some tapas appetizers — the supposed millennial food trend.
The San Francisco location won't have the frozen margs, but will have the beer, wine and sangria (v important).
Get in the car bitch, we're going to Taco Bell!
These fast-food restaurants are failing meat school, including TBELL
25 of the biggest fast-food chains in America are getting F's on their antibiotics use policy.
Why does this matter to humans? Overusing antibiotics in animals can make bacteria resistant —> we then eat the bacteria —>we get sick and get antibiotics —> the antibiotics don't work —> we are screwed.
Before you hit up that new Taco Bell Cantina restaurant, you might want to consider the fact that the fast food chain got an F on this test.
Olive Garden, Sonic, Pizza Hut, Papa John's and IHOP also failed the tests.
People who studied and earned the A? Panera Bread and Chipotle. HOLLAAA.
Oscar Mayer wants bacon-lovers to love each other with "Sizzl"
Hey you bacon lovers, if you want a life filled with bacon everything, Oscar Mayer is your matchmaker.
The company created a new dating app called "Sizzl" that connects people who love the pig fat as much as they do together.
For the love of bacon, download the app and feel the pop and sizzle.
And some sports highlights for shits and gigs…
Football season started Sunday
And its all about the bars, beers, wins and more beers Sunday night.
Bruno Mars is also performing at the Superbowl again? 
He did it two years ago, and he might be doing it again.
Bruno Mars was reportedly asked to curate the show, meaning he will be joined with other top-notch artists. No confirmations yet.
Djokovic defeats Federer for 10th grand slam title
He took a nasty fall during the middle of the match, but ended up defeating Roger Federer at the U.S. open on Sunday
Majority of the stadium was sadly rooting for Federer. Sorry Novak.
All in good fun though, the two have been rivals for years, constantly competing to see who's the best. No matter what, they're still the best of the best right now.
Serena Williams lost and everyone blamed it on Drake
To everyone's disappointment, Serena Williams did not make history and lost in the semi-finals to Italian player Roberta Vinci.
Drake, who's been getting couple-y with Serena in recent months, was on the stands watching, as usual.
After she lost, everyone blamed Drake (sorry we're going to agree too).
Sit down Drake. This is your fault.

— roxane gay (@rgay) September 11, 2015
lesson here is if drake is at your sports event rooting for u u are going to lose: raptors kentucky serena

— jeff in real life (@thecultureofme) September 11, 2015
Stop ruining sports for us Drake! #Serena

— Edward Aschoff (@AschoffESPN) September 11, 2015
And if you dislike everything you see on your newsfeed, Facebook is finally creating a button for that
Every hater's dream come true.
FB Creator Mark Zuckerberg announced, during a Q&A, the social media site is getting a "dislike" button.
He said he wants to give his users more options to express themselves besides "liking."
Thumbs up on this one Zuckerberg.
Not sure when the update will come, but apparently it's pretty hard to create a "dislike" button.