We're all in the post-Labor Day blues, putting our white-colored clothes in the storage bin and embracing the pumpkin-spiced everything craze to the max. It doesn't really feel like the end of summer with the massive heat wave we're going through, but alas, your Facebook newsfeeds are filled with college students costume frat party and #tbts to vacation travel pictures again.
If that's not enough to tell you winter is coming, Apple made its yearly new product announcement, the U.S. Open is in full force and news of the 2016 Presidential election dominates half of the weekly news.
Don't know what we're talking about? We got you covered — here's the gist of the week:
The nation remembers 14 years since 9/11
Friday marks the anniversary of the tragic day 14 years ago when terrorists hijacked four planes and flew two into the twin towers of the World Trade Center in New York City.
3,000 people were killed that day, the most American lives lost in a foreign attack on American soil.
The day changed everything forever, not just in the U.S., but in the world. Historians often talk about post-9/11 world, where terrorism is a prominent concern and where security has become more intensified, prompting the question of how much people are willing to give up their privacy to protect the nation.
Email exchanges between Bush and his cabinet members from September 11, 2001, were released to the public. The chronological timeline of the Bush Administration's response paints the picture of shock and confusion on how to deal with the crisis.
Updates on events to commemorate 9/11 will be posted throughout the day.
An update of the Syrian refugee crisis: It's our responsibility as humans to help these people escaping war and chaos
Last week we told you about the migrant issue spilling into Europe. Over 4 million Syrians are fleeing their country because of the civil war that has plagued the area for years. Migrants from Libya and other conflict countries are also making dangerous journeys to Europe.
Hungary, Germany and other European Union countries said last week that it was not their issue to deal with the Syrian refugees.
Before you think Europeans are evil, it's not that they don't want to help the migrants, it's the lack of resources. Many European countries barely have enough resources to support their own people. Also remember the economic crisis with the euro and the possible #Grexit? Still a big deal there.
On Wednesday, European Union announced plans to distribute 160,000 migrants among its members.
Over 30,000 refugees arrived in Germany in just September. Over 450,000 have arrived in the country this year already.
Within 24 hours, 5,000 migrants arrived at Hungary's border.
Ireland will also take in 4,000 refugees.
President Obama announced on Thursday that the U.S. will take in at least 10,000 Syrians in the next year.
The refugee crisis has become a human rights issue that people around the world are stepping up to help. In Germany, people are beginning to accept them with open arms. Watch as this German toddler welcomes another Syrian toddler into Germany. It's a moment that will make your heart melt and restore faith in the humankind.
It's official, Queen Elizabeth II is Britain's longest-reigning monarch.
The 89-year-old queen said the milestone is "not one to which I have ever aspired."
She assumed the throne in 1952, reigning for 23, 336 days and counting. She surpassed her great-great-grandmother's, Queen Victoria, time in power.
The queen knew how to celebrate in style with a turquoise coat on and all of England praising her while she traveled through the country.
Queen Elizabeth thanked everyone's "touching messages of kindness."
For an 89-year-old, the queen looks fantastic. Care to share your skin regimen?
It was a week of new discoveries…
Scientists may have found one of our ancient human relative
Scientists in South Africa made a huge discovery on Thursday when they found bones in a cave that's possibly linked to a new species of humans.
Meet Homo naledi, your possible human ancestor.
More than 1,500 pieces of bones from 15 individuals were recovered.
The bones are a blend of ancient ape and modern human-like features, leading scientists to believe it's part of the evolution of humans.
We weren't an attractive group of apes before, glad that's evolved throughout the years.
British scientists also found a "Superhenge"
Just around the corner from Stonehenge in the U.K., scientists discovered a rock formation that is five times the size of Stonehenge.
Named the Superhenge, the Neolithic monument was revealed on Monday.
The monument could possibly date back to 4,500 years, making it old as shit.
No surprise here, Apple unveiled its new iPhone 6S and 6S Plus, Apple TV, iPad Pro, and Apple Pencil?
Tim Cook confirmed all of our Apple speculations on Wednesday, announcing the new improvements and products all us Apple lovers want to hear.
The iPhone: the 6S and 6S Plus will be available in a new color, rose gold — super girly but still super chic. You can take clearer selfies now and also have the pleasure of using a 3D touch screen.
The iPad Pro: After going smaller, it's now going bigger, the awkward size that's not big enough for a TV but not small enough for a tablet. So it's a Macbook without a keyboard. You can purchase this at a low price of $799. It's lighter, faster and big enough to get a full-size keyboard with it if you really wanted.
iPad Mini: Apple didn't forget the children. There will be an iPad Mini 4 also coming out.
Apple TV: "We believe the future of television is Apps," Tim Cook said during the unveiling. New app store, new remote, and more controls for Siri so she can solve more of your life problems. Hooray.
Apple Watch: Apple knew those watch bands were a little fug. The techies struggled but finally came up with more band options.
Apple Pencil: Don't even know how to describe this one because really we still don't understand.
Overall, only real new product was the iPad Pro and Apple pencil, so not as revolutionary and exciting as past unveilings. We still suspect there will be massive lines at the Apple stores near you.
Kentucky clerk Kim Davis rolls out of jail and celebrates her freedom with "The Eye of the Tiger"
The Kentucky clerk who refused to issue marriage licenses to gay and straight couples was released from jail this week. She thought God really touched her spirit and decided to leave and embrace a crowd in style.
With Republican presidential candidate Mike Huckabee by her side (oh jesus), Kim Davis greeted a cheering crowd with the song "Eye of the Tiger" from Rocky III playing in the background.
I'll let you just watch that and judge for yourself…
Songwriter of "Eye of the Tiger" wasn't too happy about Davis using the song during her jail release. He tweeted he will be issuing a cease and desist order.
I have not authorized the use of Eye of the Tiger for use by Kim Davis and my publisher will issue a C&D. This does not reflect my views.

— Jim Peterik (@jimpeterik) September 9, 2015
Davis still has to issue marriage licenses to couples or else she will be put back in jail. She's expected to return to work next week. 
And for your weekly political news…
Bernie Sanders is making Hillary supporters nervous
A new poll shows Bernie Sanders with a nine-point lead over Hillary Clinton in New Hampshire.
Bernie is raking in 41 percent support, Hilldog is coming in with 32 percent, and good ol' Joe (who hasn't even announced he was officially in the race) is at 16 percent.
Hillary supporters are beginning to sweat. Her overall support is slowly declining in the midst of the email scandal that has been a bulldozer on her back.
Joe Biden has been more popular than Clinton among Democratic voters too. Hillary, you might be in trouble.
Hillary finally says, "My B, sorry" about the emails
"At the end of the day, I am sorry that this has been confusing to people and has raised a lot of questions, but there are answers to all these questions," Hillary Clinton told NBC's Andrea Mitchell in an interview last Friday.
Earlier, Clinton said she didn't need to apologize for anything because she did nothing illegal/wrong.
Welp, guess she was wrong. It's never too late to say sorry, but don't know how forgiving voters are though.
Bush brings out the punching bag, says Trump can't insult his way to the White House
Jeb Bush, GOP presidential candidate who's known to be a tad bit dull, is not standing by anymore as Trump continues to lead in the polls.
Bush says in an interview that Trump cannot insult his way into the White House.
Trump opened his mouth again and said Carly Fiorina's face wasn't electable. He claims he wasn't talking about her looks, but her persona. OK Donald.
The celebrities that are making headlines this week…
Stephen Colbert debuts as host of "The Late Show"
Stephen Colbert made his hosting debut on "The Late Show With Stephen Colbert" with Jeb Bush and silver fox George Clooney as his first guests on his comfy hosting couch.
Colbert took over for David Letterman.
Critics are pretty pleased with the show. The Huff Post said "Stephen Colbert's 'Late Show' premiere was just as fun as 'The Colbert Report'"
If you weren't a fan before, Colbert played a fictional character on "The Colbert Report" that mocked conservative political TV hosts such as Bill O'Reilly. He's playing himself this time, and some say he's brought a little of his character to "The Late Show."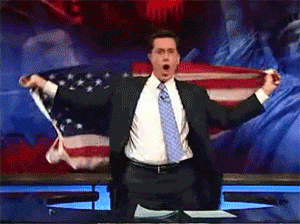 The Brady bunch are staying together
Not talking about the show, but Tom Brady and Gisele Bundchen.
Brady addressed the divorce rumors in an interview with Boston radio station WEEI on Tuesday, calling Gisele the biggest supporter in his life.
Divorce rumors came while Brady was in court for deflategate. The love stands through inflated and deflated balls.
Ellen DeGeneres talks about Caitlyn Jenner's view on gay marriage
Caitlyn Jenner recently went on 'The Ellen Show" and said she wasn't for gay marriage 15 to 20 years ago, but now she didn't want her views to get in the way of people's happiness.
On Howard Stern's radio show, DeGeneres said Caitlyn Jenner, "still has a judgment about gay marriage."
Jenner has said to the public she wants everyone to accept her along with all transgender people.
Serena Williams is one step closer to making history after defeating her sister in the quarter finals
The Williams sisters battled it out on the tennis court Tuesday night to advance to the semifinals in the U.S. Open.
Serena ultimately beat out Venus, winning in a three set match.
Serena's semifinal match with Italian player Roberta Vinci was postponed on Thursday due to rain, but if she beats her and wins the final match, she will be the first woman to win the Calendar Grand Slam since 1988.
And in a case of mistaken identity, tennis star James Blake was tackled by the NYPD
Five plain-clothed NYPD officers tackled former tennis star James Blake outside of his Manhattan hotel.
Blake was heading to an U.S. Open match and was standing outside when the whole debacle happened.
The cops thought Blake was part of a theft ring of stolen cellphones. They slammed him to the floor and handcuffed him.
It took them a while, but they finally said "shit, wrong guy." By then, Blake wasn't about the apologies. NYC Mayor de Blasio and Chief Commissioner Bratton both apologized for the embarrassing incident.
The cop who tackled Blake has now been placed on desk duty.
If you still have that old cucumber, throw it out before you get salmonella
Cucumbers are getting a massive recall after multiple salmonella outbreaks in 27 states have been linked to the refreshing vegetable.
No spa treatments, no salads, nothing. Some restaurants are also throwing out their cucumbers. Stay away from them until you get the OK to eat them.
Two people have died from salmonella caused by eating the contaminated cucumbers.
Okay, it's not that deadly. Just be careful. Check that label. If it has a Limited Edition label (sold at Whole Foods, HEB, Walmart and Safeway), be a little wary.
Even the cat find it dangerous.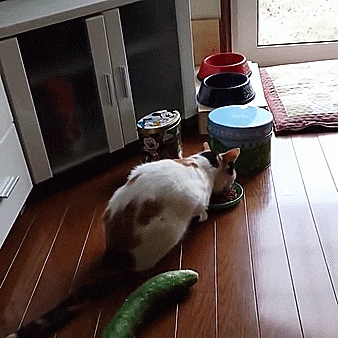 And if you're a 90s baby and miss the Nickelodeon cartoons, some of the classics are making a comeback
Nickelodeon announced Wednesday that a 90s reboot was in the works.
No the shows itself won't be making a TV comeback, but rumors have it that a massive 90s crossover movie is being made.
Rugrats, Angry Beavers, Hey Arnold!, Rocko's Modern Life, Ren and Stimpy are just a few names being dropped in the hat. What what?!
The so-called movie is said to called Nicktoons. 
I was born int he late 90s, but I still think I count as a 90s baby, therefore 6-year-old me is screaming for joy inside.
Source :