Didn't have time to keep up with the news this week? The little bits of information you were able to glean from your Facebook was riddled with bias from the people you would literally never trust to provide you news in a million years?
Shh, don't worry, we are here for you. Every Friday.
Here's the Jistt of what happened in the news this week:
China's stock market takes a tumble and dragged the world with it
Remember last week when China devalued its currency to get more of its citizens to buy goods at a cheaper price? Yeah, well it failed…
Black Monday: China's stock markets were down 8.5 percent, the biggest slump it had in eight years.
Following this, stockbrokers on Wall Street almost had a heart attack when the Dow opened with over 1,000 points down. It slowly came back up, but still closed with almost 600 points down.
Other stocks around the world took a tumble with China and the U.S., like Japan which fell 4.6 percent.
Virginia reporter and cameraman shot dead while live on-air
On Wednesday morning around 6:45 a.m., Reporter Alison Parker and Cameraman Adam Ward were killed when a gunman, now identified as Vester Lee Flanagan, shot them during a live TV interview.
The two worked for WDBJ, a local station in Virginia.
Flanagan worked at the station two years ago but was fired because of several altercations with people there. He was also fired from multiple stations before.
Parker and Ward were on the balcony of Bridgewater Plaza interviewing Vicki Gardner, executive director of the Smith Mountain Lake Regional Chamber of Commerce, about the 50th Anniversary of Smith Mountain Lake. Flanagan waited until they were on-air before shooting them multiple times.
Warning: the video below contains some disturbing content.
Gardner was shot in the back but is expected to survive.
Hours later, Flanigan posted his own video of the shooting on his Facebook and Twitter, under his reporter name Bryce Williams, sent a 23-page manifesto to ABC News and then shot himself.
Remembering the journalists: WDBJ continued its news programs on Thursday, holding a moment of silence on air during the morning show. Parker's boyfriend, an anchor at the news station, talked about their relationship and how happy she made him. She also celebrated her 24th birthday this past weekend.
Ward was engaged to a producer at the station, who watched the horrific interview happen from the station's control room.
50 people found in a abandoned truck in Austria
It was a gruesome scene in Austria when about 20-50 bodies were found in an abandoned truck by the Austria-Hungary border.
The truck, a refrigerated lorry, was found on the side of A4 motorway. It had already crossed the Austria border when police found it.
The people are believed to be migrants who were trying to escape the conflict that's raging in the Middle East.
The 10th Anniversary of Hurricane Katrina
 Thursday marked the 10th anniversary of Hurricane Katrina, the massive hurricane swept across the New Orleans area, flooding the majority of the city and killing more than 1,400 people.
The hurricane was the costliest and deadliest one in U.S. history.
10 years later, the city is still not the same as it was before the storm. The soul and spirit of New Orleans, however, still remains and 98 percent of the people who were displaced from the storm have now returned to the area.
President Obama visited New Orleans and met with the Mayor and residents on Thursday.
"The people of New Orleans didn't just inspire me, you inspired all of America," President Obama said to residents of New Orleans on Thursday.
The Ashley Madison saga continues, and takes a turn for the worse 
Last week, the hackers known as the Impact Team, released the emails of all Ashley Madison users, plus their personal information like name, age, location and sexual desires.
The public can search anyone's email to find out if they were a member of the site.
Was this too evil? A slew of people have publicly admitted and apologized for being a cheater on the website.
First it was Josh Duggar ( the oldest son from "19 Kids and Counting"), now Snooki's husband and Real Housewives of New York City's Kristin Taekman's husband are under fire.
Josh Duggar has also checked himself into rehab, his family announced — he's on a journey towards "wholeness and recovery."
Also three suicides have been linked to Ashley Madison users.
Hackers Wanted: Ashley Madison's parent website Avid Life Media is offering $500,000 to whoever catches the hackers
Goodbye CEO: Noel Biderman, CEO of the site's parent company Avid Life Media, resigned on Friday. Guess he couldn't take the heat.
But by the end of the week, it's not all bad news in the stocks world
Tuesday seemed a little bleak, but overnight on Thursday, Chinese stocks bounced back, jumping 4.5 percent.
A few smiles emerged on Wall Street again when the Dow jumped up 619 points, the third biggest point gain on record and continues to rally.
If you don't care about stocks, you should care now. This is a huge indication of where the economy is going and if we should start securing our assets for the future. Right now, DON'T PANIC. It might seem bad, but it can just be a false alarm. Phew.
Joe Biden nears a decision about entering the election
Rumors are still swirling about whether Joe Biden will enter the presidential race. If anything, the polls are in his favor.
Biden nationally polls higher than the top 3 republican presidential candidates.
83 percent of Democrats view him favorably. Does that convince you to run for president yet, Joe?
Dear Uncle Joe: Please don't leave America with Deez Nuts and Donald Trump's toupee as the only options to run our country.
Speaking of Donald Trump, this week he has beef with more reporters and Oreos
You can say a lot with 140 characters, and Trump is using all of it on his BFF Megyn Kelly.
After the Fox News host and debate moderator "insulted" the bombastic politician last month at the first GOP debate, he tweeted that Kelly was "bomb" and "unprofessional."
Still a little sour from Kelly's comments, he went on Twitter again to bash her, then retweeted a tweet that called her a bimbo.
.@megynkelly must have had a terrible vacation, she is really off her game. Was afraid to confront Dr. Cornel West. No clue on immigration!

— Donald J. Trump (@realDonaldTrump) August 25, 2015
Bitch this is my conference: Tuesday night Trump kicked out Univision Anchor and Journalist Jorge Ramos out the press conference room in Dubuque, Iowa. "Go back to Univision," Trump told Ramos.
Trump is also having an all out war on Oreos
Trump said he quit eating Oreos because the cookie manufacturer closed its Chicago plant and opened one in Mexico instead.
He then said he might eat it only if it's stamped "Made in America."
The truth: we all hate Trump, but we can't stop talking about him. Fml.
McDonald's said "It's not you, it's me," to Burger King's proposal to support world peace
Burger King wrote an open letter to McDonald's and proposed setting aside their differences on September 21st to join together and create the "McWhopper" burger.
 The burger will be featured in a pop-up shop between both headquarters and all proceeds will go to the Peace One Day charity.
No happy engagement here. McDonald's responded via Facebook saying it's a great cause, but maybe next time.
Jennifer Lawrence and Amy Schumer are writing a screenplay together
Jennifer Lawrence casually announced on Wednesday during an interview that she and Amy Schumer are writing a comedic screenplay together.
The comedy world obviously went apeshit. This is almost as good as the Tiny Fey and Amy Poehler mash-up.
Lawrence apparently emailed Schumer after watching Trainwreck and they started talking. One thing led to another and now they are working together on what is bound to be an uncomfortably hilarious masterpiece.
The screenplay is almost done and the two are playing sisters. Yes plz.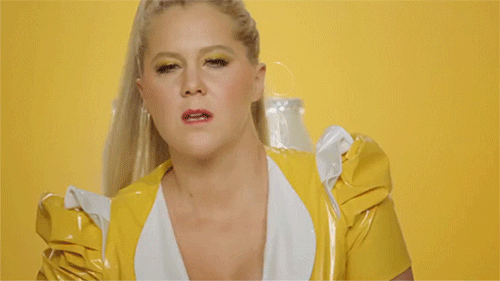 One Direction announces the group will take a break starting next year
One Direction will be going multiple directions next year when they take their break until tbd.
The group announced they will "pursue their endeavors" while remaining close.
That's exactly what *NSYNC and Backstreet Boys said, and look at them now. Eeeeek.
Our own One Direction Fan Girl, Talia Aroshas, is currently mourning this lost. We're here supporting her with all the tissues and Midnight Memories on repeat.
Don't worry, fans, you still got that one thing in Liam, Louis, Harry, and Niall's heart. Maybe not Zayn's.
What's more fun than sitting on every piece of furniture in Ikea? Making a pun out of it
This man won the Ikea game when he made a pun about every item he could find in Ikea. His girlfriend doesn't look too happy, but we all know she's secretly giggling inside.