We're back again, and it's been a week of anniversaries, new announcements and #tbts (or #fbf in this case). Last week, Uncle Joe made us all think he might be making a run for the big chair at the oval office, but so far the closest he has gone is sitting on the coach.
It's all about remember the great, the sad and the unforgettable times now. Here is this week's gist:
The Anniversary of Ferguson, a lot to change and hard to forget 
It's hard to believe it's been a year since Michael Brown's death in Ferguson, Mo.
Recap: 18-year-old Michael Brown was shot dead on the night of August 9, 2014, by a white police officer, Darren Wilson, and left on the streets for hours in his own pool of blood before anyone helped him. People began questioning police brutality towards black citizens and the use of excessive force — enter the Black Lives Matter movement.
A few months later, Wilson was not indicted for any charges against the shooting.
Peaceful protests and marches turned violent as Ferguson residents were filled with anger, looting stores and setting police cars on fire. As Obama gave a speech that night about not using tear gas on citizens, tear gas was being thrown in Ferguson.
Fast forward to one year later: Peaceful marches took place all weekend to commemorate Michael Brown, but also to protest incarceration rates, excessive police force and brutality. Brown's father led a march from where his son died to a nearby church.
But on Sunday night things took a violent turn once again when people began looting local stores. Demonstrators and local police in the area began to clash, gunshots were fired and the violence ensued.
Louis county declared a state of emergency, an 18-year-old man was shot, critically wounded, then charged for felony assault against a police officer.
One year later, Ferguson has brought us national awareness of police brutality, but also has shown us the need for more changes and growth to push things forward.
Hand over that iPhone, Hilldog
Even Hillary Clinton can't run away from the FBI — on Tuesday, Clinton agreed to hand over her email server to the FBI for investigation.
Hillz has been accused of using her personal email to send classified information when she was Obama's Secretary of State.
Clinton had a private email server made under clintonemail.com at her New York home.
Republicans are saying Clinton is hiding something and violating transparency and record-keeping laws, but Hillary is like "nah."
How serious is this for Clinton 2016? Well recent polls showed that half of American voters find her untrustworthy. Ouch.
Don't fret Clinton supporters, she's still the likely candidate to win the democratic presidential nomination. #Ready
There was a lot going on in China this week
China devalued its currency for three straight days to fight economic problems.
The Chinese government devalued the yuan, aka making everything more affordable for Chinese citizens so they spend more and put more money back into the economy.
Why does this matter? China has the second largest economy, next to the U.S. Their economy tumbles, our economy takes a slight tumble as well. Yikes.
On Wednesday, a giant blast rocked through the city of Tianjin.
The blast was equivalent to a small earthquake. Many people around the area caught the huge explosion on film.
At least 50 people are dead and hundreds are injured. Officials still don' know what caused the explosion, but are looking to contain the fire and possible toxic chemicals the blast might have spread.
Jimmy Carter announces he has cancer
Former president Jimmy Carter (39th president, all about human rights) announced on Wednesday he has cancer that has spread to other parts of his body.
Carter, 90, had surgery on his liver to remove a small mass when doctors discovered cancer in other organs.
There's not much information on how the cancer spread or how long it has been, but Carter's family has a history of pancreatic cancer.
If you were too young to remember Jimmy Carter — he is one of the smartest presidents, a peanut farmer from Georgia that won America's trust after the Watergate scandal and the Vietnam War disaster. He championed in human rights issues, but couldn't get it together with his foreign policy. Four years and one Iran hostage crisis later, Carter's seat in the Oval Office was gone.
Jimmy Carter legacy was solidified with his human rights work, especially after his term. He may have only been in office for one term, but he's one of the most active ex-presidents still alive.
Celebrities and fans remember Robin Williams on the death of his anniversary
Fans remembered "O' Captain, my Captain" on Tuesday, commemorating Comedian Robin Williams' life a year after his passing
Williams died last year after committing suicide. His untimely death was a shock to the world, whose comedic movies and acts have made the world, cry, laugh, believe and love throughout the years.
Many celebrities, including his son, took to Twitter and Instagram to commemorate the the comedian.
Celebrating your memory today. Love you and miss you madly you mensch! pic.twitter.com/LP3CxzJNTi

— Zak Williams (@zakwilliams) August 11, 2015
Chika-Chika-Cheahhhh, Chick-fil-A opening in NYC
Craving Chick-Fil-A on the east coast? Well if you're in the NYC area you can soon have them chicka-awesome sandwiches and waffle fries daily.
Chick-fil-A announced it will be opening a new 3-story restaurant in the Garment District, the biggest location yet.
Set to open on October 3, this is the second NYC location, but the first free standing one (aka straight up Chick-fil-A only).
FYI if you didn't know, one exists on the NYU campus (you're welcome).
Brian Williams back, back again
Going to the less celebrated Williams, Nightly News fans shed a tear early this year when they found out Brian Williams, their trusted journalist, told not one, but multiple white lies in some of his major news reports.
Williams lied about events when he was with U.S. soldiers in Iraq back in 2002. An NBC investigation revealed that Williams also lied about details in Hurricane Katrina, and details in other stories (enter sobbing face).
His smooth yet bold voice with those baby blue eyes couldn't save him from this blunder. Brian Williams was suspended without pay for six months from his Nightly News post he has been anchoring since 2004.
What's Next: Williams is reassigned to MSNBC to cover breaking news and special reports, starting September. Lester Holt will continue to as main anchor of Nightly News.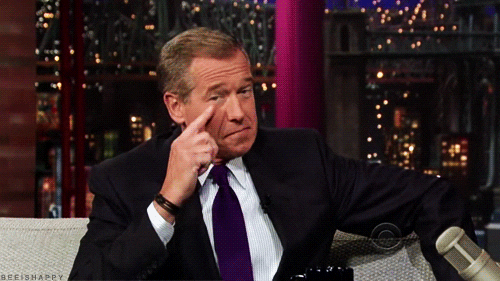 Jon Voyage to our beloved The Daily Show host
And since we are going down memory lane this week, last week viewers said Jon Voyage to Jon Stewart, who hosted his last episode of "The Daily Show" after 17 years.
Still mourning his exit? Check out these videos of some of Stewart's best moments.