The cure to information overload? This right here. Here's the gist of what happened in the news this week.
It was Election Day on Tuesday. The important ballot question in Ohio: should we legalize marijuana?
Ahhhhh, the hotly debated topic that had so much pot-ential with voters.
People in Ohio voted on ballot question 3: to allow few businessmen to grow and sell weed in a limited amount. People over 21 would also be allowed to have an ounce of weed for recreational use.
Ohio peeps weren't about the hazy pot life and voted no.
Nick Lachey, yes the 98 Degrees singer who used to be Newlyweds with Jessica Simpson, was very sad about this, since he is an investor in one of the companies who would benefit from the question 3.
While I may not agree, the people of Ohio have spoken and that's the way it's supposed to work. Change takes time. #democracy #respect

— Nick Lachey (@NickLachey) November 4, 2015
President Obama made a pit stop in Newark, NJ to talk about America's criminal justice system. Here were the main points:
Obama was visiting New Jersey in an effort to reduce crime and crowded prisons in the U.S. This comes during the release of over 6,000 federal prisoners on drug offenses, the largest prison release in U.S. history.
Meeting with Christie? Didn't happen. They also aren't on the best terms since Christie criticized Obama's policy to reduce crime in the U.S.
On giving ex-convicts a second chance: Obama visited Integrity House, a halfway house and drug treatment center in Newark. The prez said helping ex-convicts reintegrate into society is important to help them start a new life and not return to criminal activity.
On taking out "the black box" on job apps: He also talked about an initiative to remove the "Do you have a criminal history?" question from job applications to give newly released prisoners an equal chance at getting a job.
Ben Carson leads the polls while Jeb Bush's poll numbers drop:
There's a new leader among the GOP, and that's Ben Carson, the former neurosurgeon.
Carson has 29 percent of GOP voters' support, the highest any GOP candidate has earned.
Trump finally has some competition. He's been on top of the polls since the campaign started, until the neurosurgeon swept in equally controversial statements.
Surprisingly, Jeb Bush, who was initially one of the front runners, is losing support. He had to apologize to the French for criticizing their work ethic. Yikes.
If you don't know who Carson is: he proposed a flat tax rate, was questioned if he can do proper math, and said he wouldn't put a Muslim in charge of the country.
Over the weekend, a Russian plane heading from Egypt to Russia broke apart mid-air and crashed:
The flight was traveling from an Egyptian resort of Sharm el-Sheikh to St. Petersburg. About 23 minutes into the flight, the plane dropped off the radar, exploded and crashed.
224 people were killed, at least 25 of them were children.
An investigation is ongoing, but officials said it's very unlikely that it was a human error or plane malfunction.
UK suspends all flights going to Egypt as a precaution, thinks the plane was brought down by 'explosive device':
The Brits are not taking chances with this. Officials suspended flights to Egypt as a precaution.
Their theory? They think a terror group planted an explosive in the aircraft, causing it to blow up mid-air and crash.
President Obama came out on Thursday somewhat supporting the theory too.
Anonymous group releases list of people affiliated with KKK:
A group ironically called "Anonymous" said last week it would start releasing names of 1,000 Ku Klux Klan members.
On Monday, they followed through with its promise. About 57 phone numbers and 23 emails addresses were released to the public.
Some are coming out saying the list of names is inaccurate. Anonymous said umm hell no, we're right.
And the hacking continues…
We've gained access to yet another KKK Twitter account. Using the info obtained, we will be revealing about 1000 klan member identities.

— Operation KKK (@Operation_KKK) October 22, 2015
E. coli strikes again — 167,427 pounds of ground beef was recalled:
Nobody can run from E. Coli, especially cows.
All American Meats announced on Sunday it is recalling 167,427 pounds of ground beef when a portion of beef tested positive for E. Coli two days prior.
If you froze the ground beef you just bought, throw it out. You don't want to symptoms such as dehydration and…err…bloody diarrhea.
Burritogate: Chipotle also gets hit with E. coli and temporarily closes 43 restaurants:
It also wouldn't be a week in the news without a restaurant reporting some problem.
Chipotle is closing down 43 restaurants, but only in the Pacific Northwest (aka Washington and Oregon area), because of reports of customers contracting E. coli.
22 people reported getting E. coli after eating Chipotle in counties in the Washington and Portland.
Technically only a handful of restaurants caused E. coli, but Chipotle is closing down more as a health precaution.
The culprit seems to be the vegetables.
Chipotle's competition, Qdoba, somehow manages to one up Chipotle's health disaster by giving its customers typhoid fever:
Yes, Qdoba is also making headlines after there were three reports of customers getting typhoid fever after eating at the restaurant in Colorado.
In case you didn't know, typhoid fever is a bacterial disease spread through contaminated food. Symptoms include high fever, headache, constipation and diarrhea. Also the disease isn't so common right now.
Taylor Swift can't shake off the lawsuits:
And another lawsuit strikes TSwift.
R&B artist Jesse Graham (yeah, we don't know who he is either) is suing Swift for allegedly stealing his lyrics for her "Shake it Off" song.
"If I didn't write the song 'Haters Gone Hate,' there wouldn't be a song called 'Shake It Off,'" Graham said to the Daily News.
Can't anyone just leave Taylor Swift alone these days??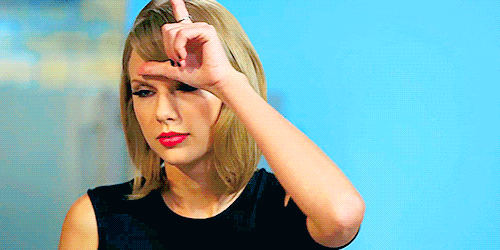 The young lovebirds Gigi Hadid and Joe Jonas hit splitsville:
And a short-lived romance bites the dust again.
These two "love birds" dated for a whopping five months before calling it quits. The Jo Bros just love breaking up with people. 
But Gigi has a lot to celebrate with pal Kendall Jenner:
Both were selected to walk in Victoria's Secret fashion show this year.
Kendall announced the big news on her Instagram the day of her birthday.
The beautiful special will be airing on Dec. 8. We all have a month to whip ourselves into shape.
Also Gwen Stefani and Blake Shelton confirm they are actually dating?!:
Talk about an unlikely duo.
The two "The Voice" coaches have been rumored to be seeing each other for weeks now and were even seen hanging out together on Halloween.
If you recall, both were just recently divorced. Blake Shelton and Miranda Lambert broke up un July after four years of marriage. Gwen Stefani and Gavin Rossdale broke up the month after after 13 years of marriage.
Both just loved each other's voices so much they couldn't stay away.
Quentin Tarantino doesn't apologize for police comments:
Tarantino caused a major stir when he participated in an anti-police brutality rally two weeks ago in New York City.
During the rally, he called police "murderers." Not the best call from a well-known director.
Police unions around the country began boycotting Tarantino's films after word got around about his comments.
Jamie Foxx, however, defended Tarantino during speech at the Hollywood Film Awards Sunday night saying, "You are boss — you are absolutely amazing. Keep telling the truth and don't worry about none of the haters."
This week, Tarantino spoke out about the incident, but not exactly apologizing for his comments.
"Just because I went to an anti-police brutality protest doesn't mean I'm anti-police," Tarantino said. Kk, close enough.
Jon Voyage no more: Jon Stewart signs deal with HBO:
Retirement didn't last long for Stewart.
He signed a four-year deal with HBO to produce short-form digital content.
Stewart worked with HBO before when he had his stand-up special "Jon Stewart: Unleavened, and hosted George Carlin: 40 Years of Comedy and Mr. Show With Bob and David."
It's nice to see you back on TV Jon 😉
Man who assaulted Uber driver in YouTube video is fired from Taco Bell executive job:
You never know when you're being filmed, and this Taco Bell exec learned it the hard way.
A video of a man named Benjamin Golden slapping an Uber driver in the face multiple times after he refused to drive him went viral. The driver apparently refused because he was too drunk and acting aggressively. The Uber driver was eventually forced to pepper spray Golden.
The Uber driver posted the dashboard cam video, which he said he has for safety reasons, and was viewed over 1.3 million times.
One of those 1.3 million viewers was Golden's boss at Taco Bell, who fired him after seeing the drunk violent encounter.
Golden was charged with multiple counts of assault and battery.
Life lesson: keep your drunk self under control
And another eating disorder started trending this week, but doctors don't recognize it as one yet:
Orthorexia: an unhealthy fixation with clean eating.
It started trending this week after a Broady writer wrote an article titled, "When does 'eating clean' become an eating disorder?"
In 24 hours, the article was shared hundreds of times.
The gist of the article: Orthorexia goes unnoticed because people don't associate "healthy eating" with an eating disorder. But restricting your diet to strictly healthy juice cleanses or just certain food groups because it is "healthy" will have a detrimental affect.
There were mixed feelings about the whole ordeal. Some praised it. Others responded saying, "Healthy eating is not an eating disorder."
In reality, anything done in excess becomes a problem.
But if you're looking for a new diet, try the pizza cleanse
This woman claimed she lost 5 pounds in 10 days from eating pizza and pizza only
She documented the whole journey with slice count, pizza she ate, and how she felt each day.
After some heartburn, fancy pizza, dozens of foodstagram, and some weird things she did to save her pizza, she lost 5 pounds.
But her doctor said it was mostly due to cutting out wine and sugar (two of everyone's favorite things).
Is this a worthwhile experiment? You can be the judge of that.