It was the fifth grade. I was sitting in class, all insecure because this Dominican girl called me out for shaving the hair on my toes. I don't even know how she knew but instead of defending myself, I got embarrassed like a little baby. Anyways, we were in class trying to multiply fractions without a calculator or something awful like that, and all of a sudden this kid's phone goes off and starts playing a song I had never heard before that went like this:
"I was gettin' some head, gettin' gettin' some head, I was gettin' some head, gettin' gettin' some head, I was with the kinda girl that make yo toes pop."
Needless to say, I had no idea what it meant but that.shit.was.fire. I don't really think anybody knew what the song was about. I can tell you, though, that I would never have guessed at the time that blowjobs would become such an important part of my life. When I'm not getting them I spend nearly all day thinking about them. But curiously enough, actually getting the bj can provide for some of the most introspective, educational and insecure moments of our sexual lives.
I would have written a better segue but I'm having trouble thinking about anything but bj's right now. So without further ado, here are the 8 things guys think about while getting a bj.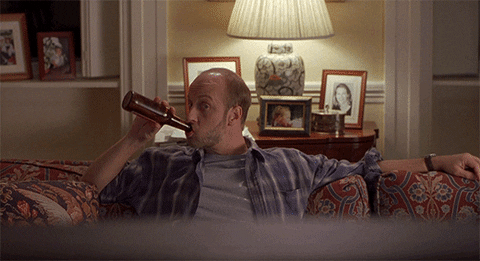 1. "I'd really like to snapchat this to my boys."
If I could just move us, you know, as a unit a few feet over, I could probably reach my phone. Shit, it's too far, it's not worth disconnecting from this current situation, and my weiner will feel so lonely and cold. It'd be like getting out of a pool and not being able to find your towel as an icy gust of wind whistles by to remind you what an idiot you are, so you just get back in the pool and everything is okay. Maybe I can ask her for her phone, she's on autopilot right now, she'll have no idea. My boys don't ask me for much so it's the least I could do.
2. "Hmm, she's pretty good at this."
Haha hey I like this person, she's cool! But maybe she's too good. Oh dammit, she does this a lot doesn't she? NOOOOOOOOOOO she's baaaaaaaaad. No, no, no, she's not she just really likes me, she's trying to show out. Whoa wow! That's something new! HYFR! This is fantastic! How'd she know about all this? She probably asked a friend yesterday or something, yeah that's all, just good timing. I'm feeling very blessed. She is being so nice to me.
3. "Why is she looking at me, I hate this."
She's looking at me like she thinks I look stupid. Lol, really? I'M THE ONE WHO LOOKS STUPID!? Calm down. She's probably just making sure I like it. Do I give her two thumbs up or a high five? I mean, my hands are already in the air I might as well do something. Wait…can she see my butthole right now? Christ maybe she saw it and didn't love it. Whatever, this is private property she can proceed at her own risk. I'm curious now too though, I wonder what it looks like. I'm sure it's nothing. She's still looking at me though. Jesus have I been saying everything out loud? Oh haha, I know what it is. I definitely did not shower after I trimmed. She's going to look like she just ate a poppy seed bagel after this. Lol damn, I'm sorry. Thank you though, you are nice lady.
4. "Wow, look at me go. I'm a man!"
I was spitting that G tonight baby! I look huge right now. I feel like my weiner is another person. Like I'm just a vessel for his own pleasure. I'm looking at him right now thinking "You don't even need me bruh." And he's looking back at me like "I don't even need you bruh." This is crazy. Am I really jealous of my own weiner?
5. "Holy shit, she could end me right now."
She could bite down and everything I've worked for in my life would mean nothing. Did my ex-girlfriend set this whole thing up? What's this girl's name again? Anika? My god, she's a Russian assassin, I'm done for. I can't even negotiate; this is completely her decision now. I must distract her. Shit I was talking out loud again. Do what you will with me Anika.
6. "I ain't gonna kiss her."
Nah I'll do it, but I'll keep my eyes open the whole time so she knows I'm not about it. Who am I kidding? I love her.
7. "I really need to pee."
Maybe I did a bit already. Haha OHHH, that's why she started looking at me earlier!! So it had nothing to do with my butthole and she's not a Russian assassin!! Life.is.great. I'm a legend.
8. "Is she going to spit this on me?"
That would be very, very rude. Obviously I don't think my ejaculate is the nectar of the Gods. Sure it may taste like burnt rubber on rare occasions, but don't bow out on the home stretch. You were literally gargling a cheese pizza 30 minutes ago, so what's going on here. If you're really scared of the taste, swallowing is probably your best bet. If you spit, it will linger in your mouth and you'll hate me. I think this is convincing. She's is in no position to argue with a mouthful anyways. But I digress; now you digest.
Source :