As 20somethings, the majority of us will be waking up on Thanksgiving Day with a real struggle — an inevitable hangover resulting in dull, tired and puffy skin. I'm going to be your hero this year by sharing some beauty tips to help you look a little livelier for the family. You're welcome! Wash your face to remove that makeup from the night before, pop some aspirin and follow these tips:
Prep your body before the big night out
Before you're out for the night, grab some coconut water and chug the whole thing. Really. If you're the type to forget then put it on your nightstand, or put a post-it on your bed to remind you (post-its save my life always). Drinking regular water is an option, but coconut water is much more hydrating and will ultimately be more beneficial.
Use cold spoons to de-puff those bags
You might look crazy, but it's ok. Place a spoon on each under-eye area to de-puff. The cold restricts the blood vessels and helps reduce puffiness. Anything cold like a cucumber slice or even a paper towel/washcloth that you can run under cold water will suffice. I find that the spoons are easiest to just grab and lay back down for a few.
Drink some mint water
Remember when you would take the SAT's or ACT's and they would allow a calculator, pencil, and gum/mints? Like why gum or mints? Random. But it's actually not so random. In fact, they're helping you out. Mint is stimulating for your tired brain and skin. Add some mint into your water to get your brain to wake up and pick up the speed. It also doesn't hurt to drink a lot of water to keep your metabolism moving because, let's face it, a food coma will be in full effect soon.
Conceal it
It didn't happen. You're not hungover. Just conceal it. Brightening concealer under the eyes will do wonders.
Curl those lashes
Curling your lashes will open up your eyes and adding a few coats of mascara will make you look more alert and ready.
Add a pop of color on your cheeks and lips
You might be looking a little pale (or near dead) from last night's adventures, so adding color back into your face has to happen. Blush or a bright lipstick will have you looking healthier and more refreshed.
E-A-T
Obviously Thanksgiving Eve is the biggest night to go out because there's an endless amount of food for the hangover munchies. So take advantage and forget counting calories because it's Thanksgiving and we need to be thankful for everything — especially turkey, mashed potatoes, and pies. So treat yo self.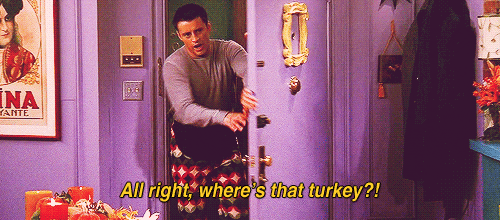 Source :