Go to the gym four times a week. Stop drinking. Give up french fries. Start saving money. Let's face it, New Year's resolutions are generally not fun, which is why maybe this January instead of focusing on these impossible, boring tasks, you can instead lay in bed and focus on your pop culture resolutions, doing all the stuff you always said you'd get around to.
1. Watch all of "Mad Men" or "Breaking Bad"
People rave about these shows all the time. They're critically and commercially beloved, and you've always said you would watch them "as soon as I have time!" while you secretly begin watching "The Office" for the 9th time. While the shows may now be over, the references aren't going to go away. Use 2016 to get in the know.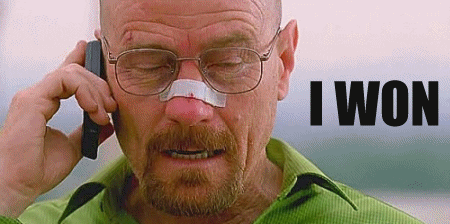 2. Watch "Broad City"
Those hour-long dramas can be daunting, so you may as well have something fun to break it up, and if you haven't watched the two seasons of "Broad City" before the third one premieres in February, we don't even know what to do about you. It's a funny show, you won't regret it.
3. Read that book you said you "read" in high school
Look, we all used SparkNotes at least once in high school. It's understandable. We had things to do, places for our moms to drive us to. And while some of those books are horribly boring (I'm looking at you, "Scarlet Letter"), there's a reason why so many are considered literary classics. Give "East of Eden" or "Brave New World" or "War and Peace" a try. You might find them more relatable than ever.
4. Download Apple Music
Streaming music has been the new way to consume music for awhile now, and if you're still paying for songs individually on iTunes, you're a sucker. Get Apple Music, which offers a FREE THREE MONTH TRIAL. That's three months of all the song you want, whenever you want, including that elusive Taylor Swift.
Remember her concert that was hundreds of dollars and totally sold out and you were bitter for weeks because you couldn't go, got over it, and then was angry all over again when you saw she brought every celebrity you've ever heard of to the stage? Well, you can watch her concert for free on Apple Music, SOO.
5. Give "Star Wars" a chance
While many, many, many people are Star Wars fans already, there are many of us out there who have never bothered with these movies, only have a vague understanding that Darth Vader is evil, and quote "Luke, I am your Father!" even though we really have no idea what we're talking about.
This was all well and fine when "Star Wars" was in the past, but Disney is cranking out one of these every year for the rest of your lives, so you're going to have to succumb to the Force (of peer pressure) and watch these films.
6. Let go of Harry Potter
We grew up with Harry Potter. The books are amazing, the movies are decent. But the facts remain that Harry Potter's final book was published years ago. He got his happy ending! Voldemort is gone!
While it is okay to occasionally reread the books and watch the movies on Christmas (although its unclear why this is a Christmas movie, ABC Family just told me it was) it's silly to keep flipping out over every revelation J.K. Rowling keeps needlessly tweeting.
The story is done.
Do we really care that Hagrid, who we know can barely do magic, can't conjure a Patronus? Let's treasure Harry Potter for what it was, and stop trying to keep the damn thing alive.